Where your money goes
92 cents of every dollar you donate goes directly to our filmmaking and dialogue programs. Learn more about how your contribution is empowering youth to build peace.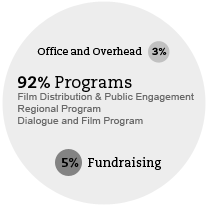 more
May 2, 2013
Since the Oslo peace accords were signed almost 20 years ago, peace-building organizations have been bringing together Palestinians and Israelis for dialogue. A decade later, as these dialogue programs were burgeoning in the region and around the world, th
April 12, 2013
"One thing is clear: we need to be critical and we need to be conscious." Such was the conclusion one night in February when a group of Palestinian and Israeli peace builders gathered in Vancouver to discuss their unique paths and approaches to
more
E-Newsletter
Subscribe to our E-Newsletter and stay informed about our latest news. Your details will not be shared, we respect your privacy.