Where your money goes
92 cents of every dollar you donate goes directly to our filmmaking and dialogue programs. Learn more about how your contribution is empowering youth to build peace.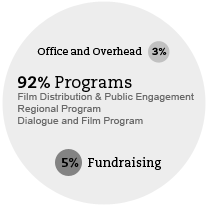 more
April 12, 2013
part 1 of 9 in a special"Struggling with Peace" symposium series One thing is clear: we need to be critical and we need to be conscious." Such was the conclusion one night in February when a group of Palestinian and Israeli peace builders
February 26, 2013
In the lead up to our two-day symposium, Struggling with Peace: Grounding peace work in action and change in Israel and Palestine, we will be introducing you to our esteemed guests, prominent peace builders from Palestine and Israel. It is our p
more
E-Newsletter
Subscribe to our E-Newsletter and stay informed about our latest news. Your details will not be shared, we respect your privacy.