Share the Films
Sharing the films with your network is an extremely helpful way to get involved with Peace it Together. In addition to widening the reach of the youth-made films, it encourages and motivates the young filmmakers and expands the impact of our program. Below you can share the films through email and social media, register to hold a screening or buy our Educational DVD.
Share Online
Hold a screening

Holding a screening is a great way to start conversations in your community about reaching across the aisle. Register to hold a screening and receive a screening package.
register
Educational DVD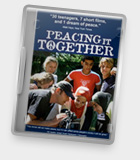 This documentary follows the transformative process undergone by the 2006 participants as they created their films. Teacher's guide also included.
buy dvd